I personally think it's important that all companies are honest and open. Companies who deliberately deceive us should not be tolerated. If you agree Read on.
The start of the story.. On a recent visit to London we called an Uber from Allsop Place outside Madame Tussauds. The lady driver confirmed the pickup. After 10 minutes of waiting and whilst the driver was still 5 minutes way, the driver cancelled the pickup. Whilst this was annoying what really p****ed me off was a charge of £6 for the cancellation. How can it possibly be right that the customer is charged a fee when the driver cancels before arriving at the pick up.
Obviously I wrote to UBER customer service to request the charge to be refunded back to my PayPal and why they had charged me this fee. They refused the refund and explained to me the that if the driver cancels because you didn't turn up they need to be compensated. Fair Enough, but the driver didn't turn up and cancelled before getting to the location. So I asked, based on this why was I charged. Uber customer service responded by saying " We can confirm the parter-driver arrived at the pick up at 14.46 and he waited at the pickup point till 14.55. This is why this fee was applied. "
I asked how can they confirm that, They responded "We can confirm Abni Hussein ali was at the pick we Marylebone Rd, Marylebone, London. We can see this by the GPS tracker which is in place for the safety of the rider. "
I wrote back saying the pick up was at Allsop Pl. and the Uber app showed the driver who was actually a she and not a he, cancelled at Melcombe Street which was about 5 minutes away. Which is inline with was the app was showing me when I was waiting for the pickup. Uber refused to respond further, below is the screen shot of the Uber App showing when the driver cancelled and me being charged. The Square on Allsop Place is the pickup point. The Square next to 3 Melcombe St is the cancellation point.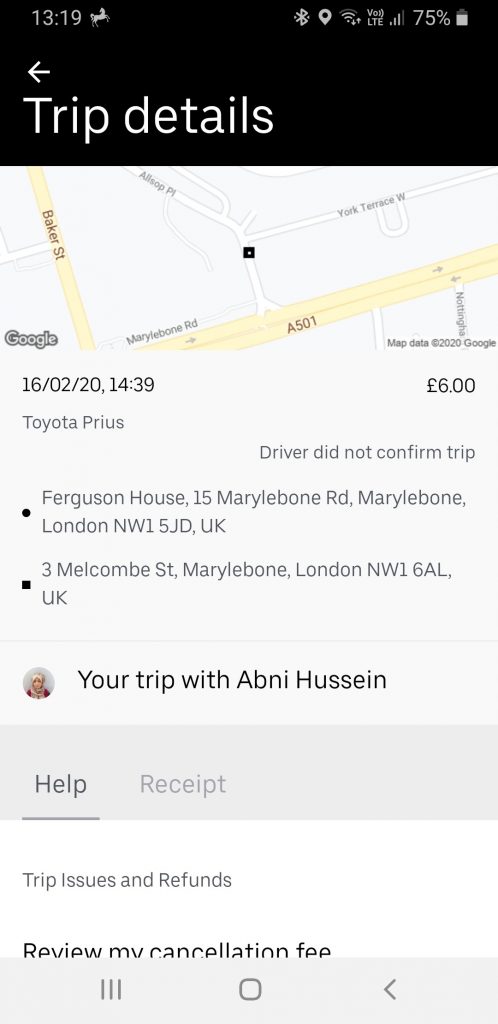 The Conclusion
On the face of it, it would appear UBER deliberately lie to justify unlawful charges. I have shown Uber this information and asked them to explain the lie and they refused to comment.
I have passed this information to Trading Standards and hope they look in to this further.
I will also add that some of the drivers told me the Uber apps always choose the longest routes from pick up to drop off, one driver illustrated this by cutting my estimated fare in half, maybe this is something else trading standards should look in to.